Admire dancers but find dance studios intimidating?
Pause. Rewind. Replay. Choose your own safe space.
This is dance class on your OWN terms.
WATCH TRAILER
press play.
We get it, dance studios are intimidating.
There's mirrors, there's fast choreography and there's a room full of people with different needs and different skill levels. This is dance class on your own terms. You have the ability to pause, rewind and replay. It's not too late to start learning.
Each lesson has 3 elements:
At a glance it looks like this:
Then we string those moves together into mini-combos (i.e. mini-routines)
All products
Prices are in $AUD
It's not too late to start learning
Whether you'd like to shake off a stressful week, learn how to dance without looking awkward or level up and learn some legit moves, we have a course for you.
Your Groove Therapist
Meet Vanessa Marian Varghese
Groove Therapy Founder
Vanessa Varghese
So throughout my life, I've trained across New York, Paris, Berlin, London, Tokyo, Australia, Brazil and my purple bedroom. In a nutshell, my professional dance credits include an Adidas sponsorship and movement direction for Victoria's Secret, Nike, Bonds, G-star RAW and MTV. But look, in all honesty, I really just dance for my mental wellbeing. So in 2016 I hired out a small community hall with no mirrors, dimmed the lights and held a beginners dance class. Turns out people liked it because that little community class has now grown into an international movement. Crazy. So now, I want to level up with this online series and spread the groove further. This isn't about working within the world of professional dancers, it's about making the brilliance of dance open to all walks of life. It's never too late to start learning. I hope you'll join the fam. Stay updated via my instagram @vanessamarian_
Umm so even my mum loves it?
I have spent years preaching the benefits of dance to people who are scared of taking dance class. I had no idea this whole time that my gorgeous mum has always secretly wanted to dance and never even told me?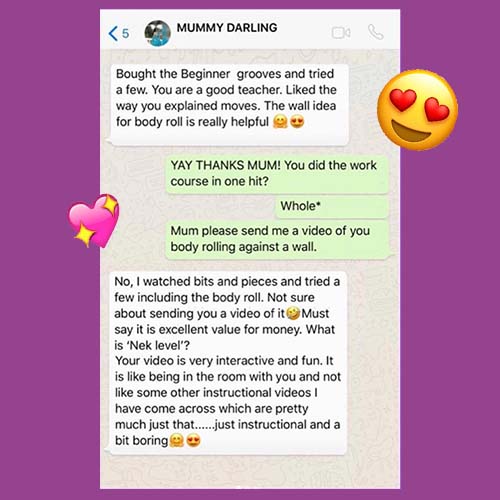 You know what the best part is? Starting dance opened up a whole new world for my mum, who has now joined the gym, has started eating healthier, taken up sewing and is even meditating daily.

She has become a vibrant dose of sunshine since reconnecting with her body, life and sense of vitality. Mum you are my biggest inspiration <3
Pricing options
Prices in $AUD of our stand alone courses:
Why not go a package deal?
Buy a package and save some coin. Prices in $AUD
You can easily spend $1000s at physical dance studios trying to learn and drill these foundations.
With courses selling for as little as $69 AUD, you're investing in lifetime access to classes that you can practice repeatedly. So what are you waiting for?
How experienced do I need to be?

None, zero, zip, zilch. You can be convinced that you are the worst dancer in the world and you can do this course. Or you could be an amazing bedroom dancer who just wants to learn some techniques and skills. Either way we break everything down so that you can learn these skills without any prior dance knowledge. The best bit is you can hit pause, rewind and replay whenever you like to take class at your own pace.

What kind of dance is it?

Each of these courses touches on street dance styles. This means you're learning predominantly social dances that were born outside of the formal dance studio context. Think hip hop, house and iconic party dances.

Can I do these classes with my kids?

Absolutely you can! Just to be transparent though, there is the odd song in the Party Dances course (being a hip hop course) that uses some adult lyrics. If that's not an issue for you, then it's time to dance battle against your kids and show them who's boss.

Am I too old?

Does age matter?

I have injuries and/or disabilities. Can I still do the class?

Whilst we are all for maximizing accessibility, each of us is so unique in our needs that we can't 100% guarantee that you'll be fine. If you're unsure, send us an email at hello@groovetherapy101.com detailing where you're at and we'll give you an honest answer. Overall though, you know your body best.

What do I wear?

Baby, whatever you like really. We personally like our street gear, baggy tees, trackies and kicks. For our weekly classes we recommend comfortable exercise gear and any sort of sneaker or sport shoe, but you're at home - wearing pants is optional.

Can I watch these classes off a TV screen?

You can cast your device to a TV using a number of gadgets and cords that are available on the interwebs. This will allow your TV to mirror whatever shows up on your screen.

I think my brand/workplace/event needs to collab with you, how do I get in touch?

YEW! Send all enquiries and general compliments to hello@groovetherapy101.com and we'll suss the potential for a collab.