If you're just beginning on your dance journey, you've come to the right page.
Heres the thing; people admire dancers but find dance studios intimidating. They feel too old, curvy, uncoordinated and convinced it's too late to start. They're wrong.
Don't ever freeze up again with your same tired moves on loop when you're on the dance floor. Picture your friends (or ex?) watching with dropped jaws as you pull out a moon walk, spin to the floor, rock some of that Charleston footwork and end it all with a slide across the floor. This is the ultimate de-stress, mood-boosting, self-care, cognitive sharpener for anyone who needs a little pick me up and self-love movement up-skilling. Go from awkward two-stepper to confident rug-cutter under our guidance bebe. This is self expression at its absolute finest. Get inspired, start dancing.
Watch trailer
Press play below.
So a snippet of lesson looks a little like this:
Then at the end of the module, we put it together to create a little routine like this:
We get it, dance studios can be intimidating.
There's mirrors, there's fast choreography and there's a room full of people with different needs and different skill levels. This is dance class on your own terms. You have the ability to pause, rewind and replay. It's not too late to start learning.
Meet me, your Groove Therapist
Groove Therapy Founder
Vanessa Varghese
So throughout my life, I've trained across New York, Paris, Berlin, London, Tokyo, Australia, Brazil and my purple bedroom. In a nutshell, my professional dance credits include an Adidas sponsorship and movement direction for Victoria's Secret, Nike, Bonds, G-star RAW and MTV. But look, in all honesty, I really just dance for my mental wellbeing. So in 2016 I hired out a small community hall with no mirrors, dimmed the lights and held a beginners dance class. Turns out people liked it because that little community class has now grown into an international movement. Crazy. So now, I want to level up with this online series and spread the groove further. This isn't about working within the world of professional dancers, it's about making the brilliance of dance open to all walks of life. It's never too late to start learning. I hope you'll join the fam. Stay updated via my instagram @vanessamarian_
Umm so even my mum loves it?
I have spent years preaching the benefits of dance to people who are scared of taking dance class. I had no idea this whole time that my gorgeous mum has always secretly wanted to dance and never even told me?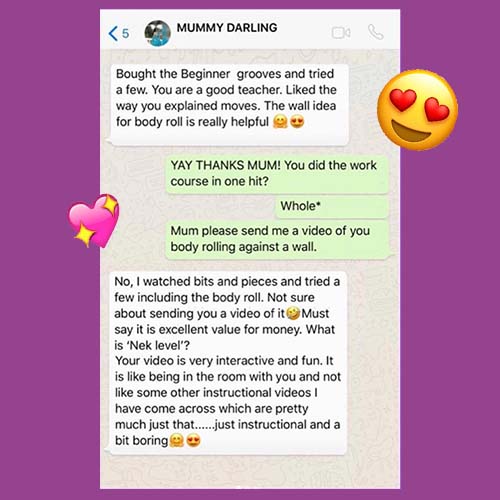 You know what the best part is? Starting dance opened up a whole new world for my mum, who has now joined the gym, has started eating healthier, taken up sewing and is even meditating daily.

She has become a vibrant dose of sunshine since reconnecting with her body, life and sense of vitality. Mum you are my biggest inspiration <3
Ok but let's talk money and save you some coin.
Don't pay thousands for casual studio lessons that teach you snippets of skill sets here and there. Both these courses are already at a HUGE discount but when bought together, you're only paying $99 USD - yes, that's less than the price of 5 studio lessons for unlimited playbacks of these lessons.
Why not check out all our package deals?
All prices are in $AUD
You'd easily pay upward of $5000 to learn and drill these techniques in a studio.
With the Beginner's Package deal, you can pause, rewind and replay all our beginner's content for just one payment of $99. That's unlimited lesson replays for less than the price of 5 studio lessons. In fact, if you don't feel like you've improved and had fun within the first 30 days, you can get a FULL REFUND. No questions asked. So what are you waiting for?